75% of Data Will Be Processed at the Network Edge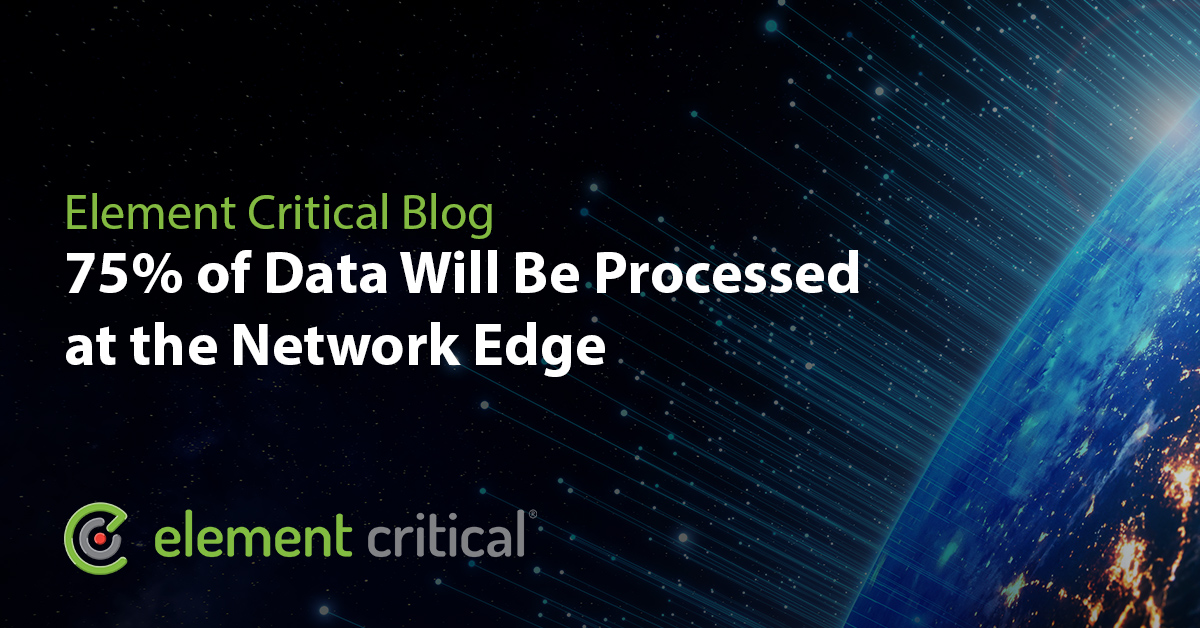 Gartner predicts that by 2025, 75% of enterprise-generated data will be created and processed outside of a centralized cloud or primary data center – in other words, at the edge of the network. This shouldn't be very surprising considering consumers are downloading and uploading more data than ever before. According to the FCC, the average household uses 38 times more data per month than 10 years ago. If data consumption continues to increase at its current rate, the average household will consume one terabyte of data every month in just a few years.
Although household data consumption was already growing rapidly, pandemic shutdowns have supercharged this growth. In 2020, children were forced to adopt remote learning applications, adults had to work remotely, and families sought entertainment, health, and fitness alternatives online. This led to the adoption and increased usages of digital services, such as food delivery services, eLearning services, and health and fitness apps. 
Food Delivery Apps
While food and grocery delivery services such as Uber Eats, DoorDash, GrubHub, and Instacart existed and thrived pre-pandemic, their business more than doubled after people were forced to stay home. U.S. food delivery app users have gone from 66 million to 111 million in the last five years. The food delivery app market is expected to continue to expand in tier three cities in the U.S., or those with populations between 100,000 and 1 million. In other words, these apps will be competing at the edge of their networks even after the pandemic.
Remote Learning
Online learning became mainstream during the pandemic as many schools closed their doors and instituted remote learning programs. While children have and will go back to in-person schooling, according to elearningindustry.com, a majority of K-12 educators expect the importance of online learning through remote and virtual learning to continue to grow. The pandemic also spurred the rise of MOOCs, Massive Open Online Courses. With the development of remote learning applications that allow for interaction, universities and eLearning companies are able to offer students access to MOOCs at a much lower cost than physically attending a class on campus. One-third of users whoever registered for a MOOC registered in 2020 alone. This amounts to 60 million new users.
Fitness and Health
To survive the pandemic, many established gyms and fitness clubs had to offer their customers fitness apps and move their classes online. According to App Annie's State of Mobile 2021 Report, approximately 71,000 health and fitness apps were released globally in 2020, an increase of 13% from 2019. While apps and online classes were a necessity for people who wanted to continue their workout routines during shutdowns, data indicates that apps have been able to retain the users they acquired in 2020. Installs have declined, but user sessions increased by 31% year over year. It appears that users enjoy the convenience of being able to work out at home and are likely to continue to participate in digital fitness programs.
While health and fitness apps have increased considerably, telehealth has exploded. During the pandemic, telehealth technologies enabled patients to communicate with their doctors during periods when it was safer for them to stay home. Usage of telehealth services had increased by 78% in April of 2020, but usage has stabilized at around 38% higher than pre-pandemic levels. The data suggests that new adopters of telehealth services will likely continue using them.
Virtual Reality and the Metaverse
You may have heard that the metaverse is coming. Some describe the metaverse as a virtual world. Some virtual worlds already exist in the form of video games, like Fortnite, but these exist in isolation. They aren't connected to a larger virtual reality. Venture capitalist Matthew Ball describes the metaverse as a, "massively scaled and interoperable network of real-time rendered 3D virtual worlds which can be experienced synchronously and persistently by an effectively unlimited number of users with an individual sense of presence, and with continuity of data, such as identity, history, entitlements, objects, communications, and payments."
AR and VR entrepreneurs expect that the development of a metaverse will result in more effective virtual skill development and training, new venues for entertainment, such as virtual concerts and events, enhanced e-learning experiences, and enhanced remote work experiences. Facial recognition technology and AI already enable avatars to mimic facial expressions. This technology will be used in the near future to interact with colleagues and fellow students in a virtual world.
A Growing Internet of Things (IoT)
Of course, the use of all of the digital services described here is enabled by a growing IoT, including smartwatches, smart TVs, smart appliances, smart cars, smart everything. 
The IoT market reached $761.4 billion in 2020 and is expected to reach $1.39 trillion by 2026. Smart devices have sensors that enable us to monitor our health, sleep, and fitness levels. Smart devices with sensors are also increasingly used by companies in all types of industries, including oil and gas to monitor pipelines and manufacturing to increase efficiency and maintain safety standards. Most smart devices require low-latency networking to function effectively.
What does this mean for networking and data centers? 
This means companies will need to meet consumers where they are  – in their homes. In the past, most companies got by with primary and secondary data center footprints in a few large metropolitan areas, but this is no longer feasible when consumers in tier-three cities are consuming hundreds of gigabytes of data every month. 
For companies to effectively deliver the services of the future, they will have to bring computing power closer to the users who are generating and consuming data. This will be the only way to achieve the low latency processing necessary to remain competitive. Companies are achieving this by establishing edge data center footprints across the country. Just like primary data centers, edge data centers should provide redundant power, networking, and cooling to ensure operations continue in the event of an outage. Processing data at the network edge can also reduce overall network backbone transport costs.
If your company is looking to expand digital services to a growing customer base in Austin, Houston, Chicago, or Virginia, our data centers provide the redundancy, resilience, and low latency network services required for successful and reliable service delivery.