Colocation Private Suites Deliver Secure IT Solution As Chicago Businesses Shed Office Space
All the headlines tell the same story; Chicago's office market vacancy rates are rising as businesses shed millions of square feet in leases. Downtown Chicago's subleased space has more than doubled in 2020, reported Cushman and Wakefield, with rates reaching as high as 16.4%.
This year shows a similar trend with businesses like Experian, Yelp, Cars.com, Facebook, Groupon, Uber, and even more, listing their office space for sublease throughout the Chicago metro area.
While some organizations continue putting off real estate decisions, more firms are downsizing office space to accommodate a new vision which likely includes flexible work environments.  As distributed work continues, (better known as working from home), businesses can leverage the money-saving opportunities in this new and dynamic business environment, seeking alternatives to spread out their workforce post-pandemic.
Hybrid Office-Based Workplace Models Are The Future
So what will the workplace of the future look like?  It seems companies are right now in the process of redefining their vision for the workplace; many of them will likely lean toward offering hybrid office-based and work-from-home models.  The calibration also brings opportunities for increasing technology adoption for increased efficiency, and workplace flexibility makes it possible for companies to widen their talent pool.  With the absence of expensive office leases, this is more feasible.
What Is To Come of On-Site Data Centers As Office Space Shrinks?
Enterprise companies have typically met their IT environment requirements with a private data center or an on-site data center solution, such as a server room or closet within their main office. While it is convenient to access mission-critical data on-site, these facilities tend to be adapted for the available space within the office environment.  Because they are not purpose-built to deliver an optimal cooling and redundant power environment, on-site computer rooms tend to be inefficient at utilizing power, poorly ventilated, require increased cooling, and may not accommodate unplanned expansion.
Colocation Private Suites Deliver A Secure Operational Headquarters Within A State-of-the-Art Data Center Facility
Ultimately, on-prem or on-site data solutions can grow more costly and less efficient over time. As businesses pivot to focus on core competencies, finding the right data center partner to secure their IT stack can help businesses transition dynamically during this market shift.  Here are a few benefits to consider when it comes to private suites in an Element Critical colocation facility:
Compliance
Element Critical provides private suite space in the Chicago market because we understand how important it is for Chicago businesses to retain all the autonomy, security, and control of their vital equipment.  Our private suites are designed to strengthen your business's regulatory process with extensive auditing.  Learn about our compliance standards here.
Uptime Reliability
Our high-performance data center suites are built with dedicated and redundant infrastructure to deliver guaranteed uptime, backed by our service level agreement.
Cost Savings
Converting IT costs into an operational expense drives flexibility and scalability into the business model. Finding the best of both worlds – customers can control the entire suite room, including adding customizable security systems, and they can do so at a fraction of the cost it would take to build their own data center.
Connectivity
Plus, don't forget the myriad connectivity solutions that our colocation data center offers in comparison with an on-site computer room.  Element Critical will expand your network connectivity, from dedicated IP bandwidth, on-ramps to cloud providers, fiber connectivity for reduced latency, and redundant network solutions with your choice of providers.  All our providers can be found in our carrier-neutral meet-me-rooms. Businesses can maintain full control over their mission-critical data in an ideal environment while building their network requirements upon the colocation data center backbone.
Expert Support
Extend your team of experts with access to Element Critical engineers – available to help you manage your data center with remote provisioning whenever your team needs.
Organizations Are Making Fundamental Shifts: Migrating On-Prem Data Centers
The shift to accommodate remote and distributed workforces is fundamentally changing how organizations manage their technology infrastructure. Colocation offers the best of all options; customers retain control, and they can build dynamic, hybrid IT environments, connected to a broad array of cloud solutions.  The robust access to security controls and total suite autonomy provides ample peace of mind while the cost savings of shared tenancy relieves the bottom line.
---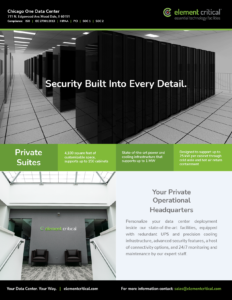 Download our brochure on Private Suites to learn more.
Schedule a tour of our Chicago One facility here.