Element Critical Offers A Suite of Solutions For Chicago Businesses Downsizing Office Space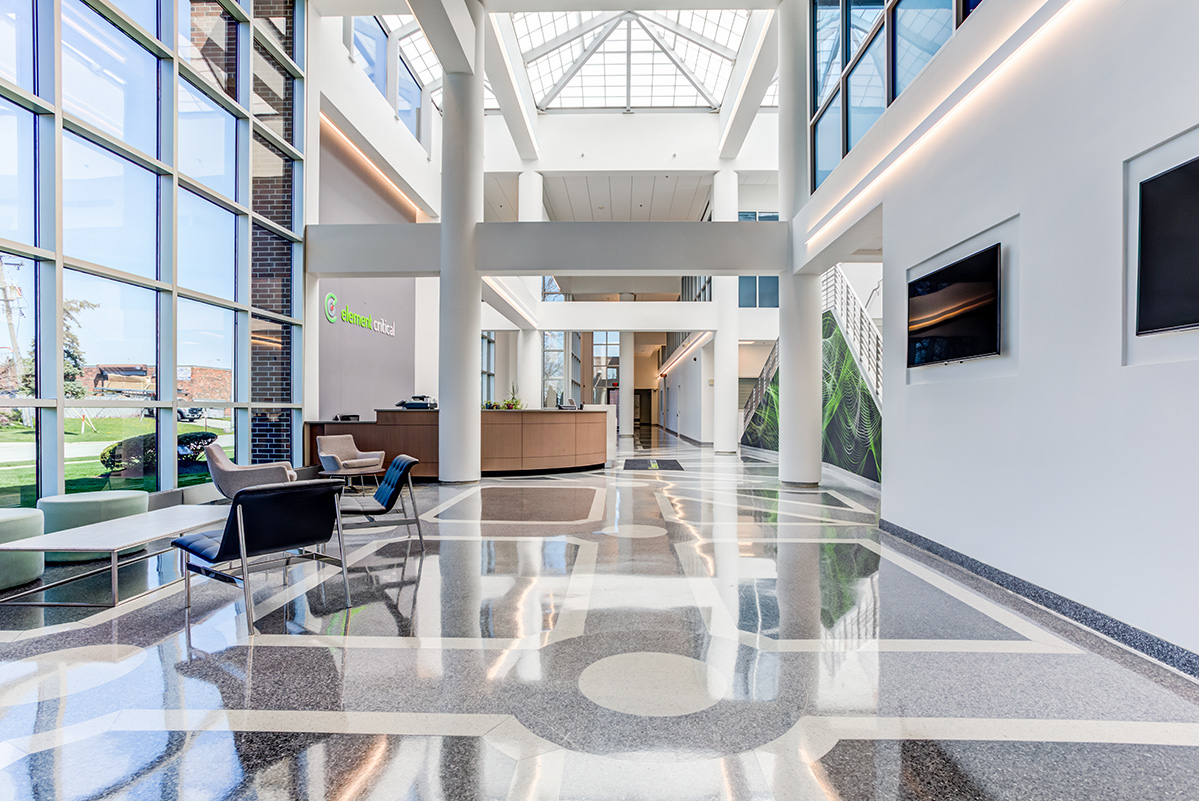 Nestled in the quiet neighborhood of Wood Dale is our Element Critical Chicago One and Chicago Two data center facilities, just a stone's throw from Elk Grove Village in Chicago, Illinois. These sister data centers were purpose-built for disaster recovery.  They are powerhouse performers and resiliency-leading data centers in the Chicago market – boasting 30+ years of continuous uptime.
Operational Excellence Drives Element Critical's Unprecedented Uptime
Delivering such unprecedented uptime is a core business goal for Element Critical – supporting our customer servers within an optimal environment.  This translates into lots of time, money, and expertise applied to the internal processes to achieve operational excellence which is further substantiated by achieving annual certification to meet our customer's compliance mandates.
Our customers are also driving greater innovation and efficiency into their IT environments to align with the latest technology trends such as AI, IoT, and other digital advancements. The future of server racks and cooling will look different when supporting accelerated computing in higher-density environments. And it is key to Element Critical's platform to upgrade our facilities with the latest modernized infrastructure design to future-proof our customer's environments.
Announcing Our Latest Private Suite Space in Chicago – Slated For Completion in Q3
To this end, we are thrilled to deliver our latest modernization project in construction within Chicago One.  Suite 110 is nearing the end of a complete renovation – now boasting state-of-the-art power and cooling infrastructure that supports 1 MW of critical power in a concurrently maintainable N+1 design.  With 4,100 square feet of truly customizable space, this secure data hall is ready for single customer leasing.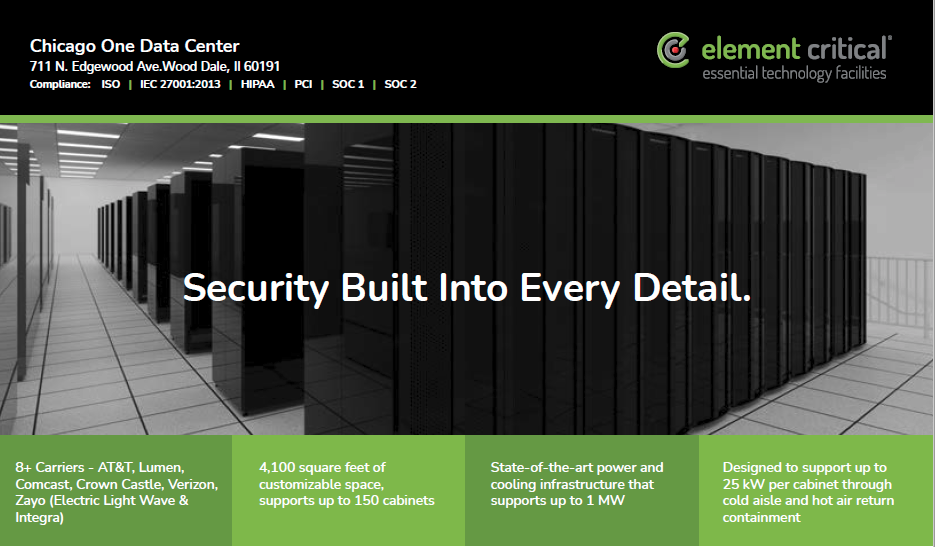 Private Colocation Suites Are A Best-Of-Both Worlds Solution For Chicago Businesses Downsizing Office Space 
Chicago Enterprise customers are amid a transitional era.  Many businesses are converting IT costs into an operational expense that frees internal teams up to focus on core initiatives and technological advancement initiatives.  Furthermore, the Chicago commercial market is seeing droves of businesses relinquishing costly office leases and optimizing their IT budgets by outsourcing their in-house data centers with a proven data center partner. 
Our Chicago suites deliver high-performance availability and the cost efficiency of market-leading PUE while ensuring Chicago businesses retain autonomy and control of their vital mission-critical equipment. Chicago data center customers can enjoy the best of both world's solutions, controlling the entire room at a fraction of the cost of building their own data center. Plus, the extensive network of partners available in our two carrier-neutral meet-me-rooms allows businesses to expand their network connectivity – from dedicated IP bandwidth, on-ramps to cloud providers, fiber connectivity for reduced latency, and redundant network solutions with your choice of providers.
Element Critical Data Centers Deliver Enterprise Business Solutions To Meet Current Market Demands
Request a tour of our Chicago One facility to see the impressive and spacious lobby, our latest private suite space that can provide a secure digital foundation for your IT initiatives, and the host of available office space, conference rooms, and amenities to supplement your business headquarters – all in one location.   This is what we call…your data center, your way – Element Critical.
Request a tour of our Chicago One facility here.
Learn more about private suites in Chicago here.