Four Ways Element Critical Drives Innovation Toward Greener Data Centers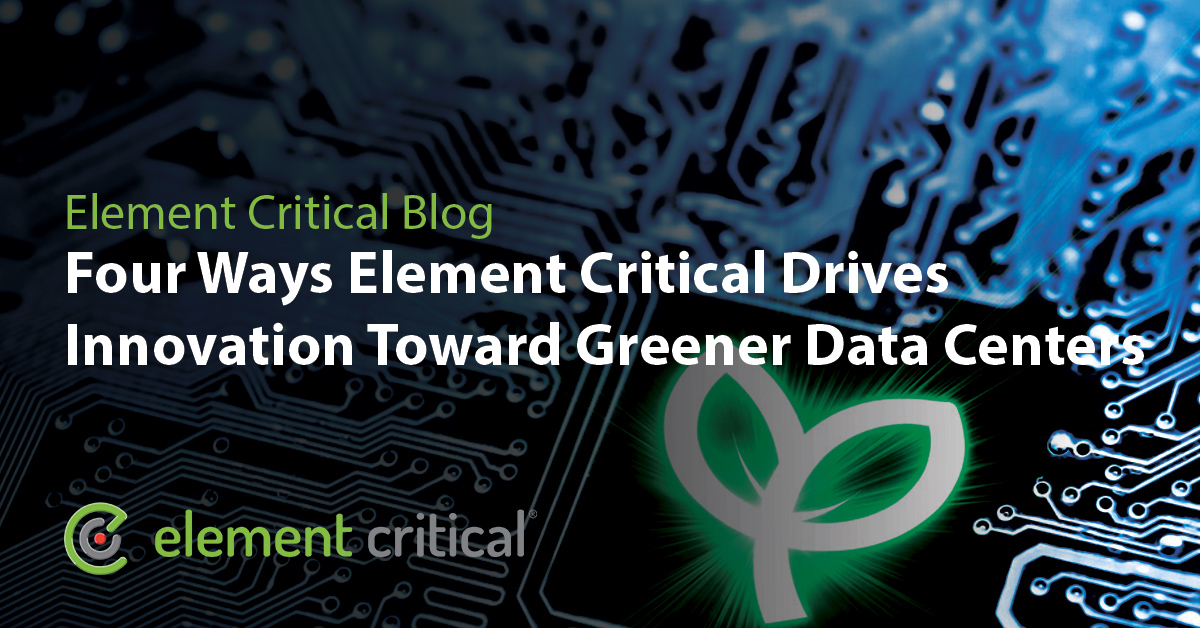 Digital activity and data has infused every aspect of our lives and the economy as we produce and use data all day long.  Families locate lost keys with smart devices, power their homes, and carry phones that outpace yesterday's desktop computers.  Sensors and chips power applications that support our businesses, drive our cars, and drive technology advancements in every industry field.
The digital economy is undoubtedly growing, and data centers power that economy.  Yet, powering the digital economy comes with great responsibility since data centers consume 4% of the world's power.  This presents a significant opportunity for data centers to incorporate green energy and sustainable practices to reduce their carbon footprint. In the U.S., especially, it could soon be a mandate, as President Biden pushes to reduce greenhouse gas pollution by 50% by 2030 (compared to 2005 levels) and make the U.S. carbon-neutral.
Since data centers are an indispensable part of our modern computing infrastructure, more organizations are turning to them for colocation services and cloud solutions that can deliver compliance assurances modern businesses require.  Fortunately, data center providers are working tirelessly to meet customer demand and achieve responsible energy usage.
Data centers use a figure called "power usage effectiveness" (PUE) to gauge their efficiency. This number represents the ratio of the total power required within the data center versus the power needed for computing and storage — the data center's core competencies, in a sense.  The industry considers 1.0 to be a "theoretically perfect" PUE, according to Forbes.  Therefore, as more and more data is captured, computed, and stored, data center owners, operators, and internal engineering teams seek energy-efficient advancements and solutions to ensure data centers reduce their impact on natural resources and reduce the PUE.
There are a number of ways that colocation data centers like Element Critical offset their environmental impact.
Alternative Energy for Green Data Centers
The power that supplies most data centers is mainly derived from fossil fuels, which are costly and bad for the environment.  Reducing power usage is an essential first step toward sustainability and conservation. An equally top priority is for data centers owners to explore alternative energy options to reduce our nation's carbon footprint.  For example, wind and solar power help reduce our nation's dependence on fossil fuels like coal and oil, create local jobs, and build resilience into our energy resources.
Every business can play an integral role in utilizing renewable energy and demanding that their 3rd party providers join in the movement.  That is why Element Critical is making strides to bring 100% renewable energy to our data centers, starting with our Austin and Houston facilities.   Customers can gain the support they require to meet ESG goals with a data center provider that can offset environmental impact with locally sourced and 100% renewable energy that powers the data center.
(Learn more about renewable energy initiatives in Austin and Houston.)
Colocation Consolidates Power Usage To Reduce Energy Needs
Often easy to overlook, hybrid colocation helps individual businesses reduce their energy needs by sharing infrastructure space.   Imagine thousands of companies in your city that house a data center environment within their headquarters or office buildings.  The consolidation of resources is key as business owners take a greater role in better data management practices and favor more net positive resources like an on-demand colocation data center.  Generally, the core competency of that business is not in data center design, efficiency, and operational management.   Considerations such as equipment constraints, age, and even the infrastructure layout in a restricted space can impact energy usage in an on-premise environment.
Just as carpooling reduces energy costs for vehicles, colocation reduces not just power requirements but infrastructure requirements such as lighting and cooling.  You won't sacrifice personalized service or one-on-one attention with colocation. You will reduce your company's overall carbon footprint and energy requirements, along with saving on data center costs at one of our colocation centers in Houston, Sunnyvale, Austin, Virginia, or Chicago.  By moving to colocation solutions, you can embrace flexibility and scalability so crucial in a world with rapidly changing IT storage and processing requirements.
Innovation Drives Efficient Design
Data centers that are purpose-built are designed from the ground up for maximum reliability. This means that the power and cooling infrastructure is built and maintained for optimal performance.  Data centers can cut down on power consumption and improve efficiencies across the platform through several measures.
Daily Optimization – Functional on-site engineering teams daily manage operational efficiency, seeking ways to increase performance such as experimentation to find efficient temperatures with close monitoring of cooling systems and server performance.  Even a few degrees of greater efficiency can save customers money.  Strategic rack layouts to optimize cooling, streamline airflow, and improve cooling efficacy make a measurable difference.  Data centers can also get rid of compression chillers and cooling towers to save energy and water usage.
Customer Support – On-site teams also work with customers to clean up unnecessary equipment, locate 'zombie' servers that are no longer in use, consolidate virtual machines, virtualize more workloads, and replace old or outdated equipment with more efficient technology.  Improvements in server technology, especially server virtualization, substantially improve power consumption at data centers and reduce customers' costs.
Capital Investment – Acquiring and modernizing legacy data centers with updated mechanical, electrical, and cooling equipment ensures the continued use of these real estate assets.  Our engineering teams actively review our facilities, upgrade equipment, and invest heavily in the expansion and construction of existing space to meet efficiency requirements that will ensure the current and future needs of our customers.
High-Density Solutions 
High-power density colocation data centers meet many of the challenges today's businesses face.  Applications such as AI, financial services, and gaming require high compute loads, increased bandwidth, low latency, and maximum security. As the power density for mainstream servers grows, the demand for power increases, and the demand for increased cooling.
At Element Critical, our engineering teams attack the issue of thermal management by prioritizing airflow physics within our data centers.  The use of hot/cold aisle containment, raised floor design for channeling air,  upgrades in the equipment with the latest technology, and even utilizing liquid-cooled immersion solutions for extremely high-density environments provide avenues to reduce energy usage.
We can help you optimize space with fewer cabinets and maximize speed with shorter cabling distances if you have high computing loads.  Our on-site facility teams pay close attention to power consumption, balancing those needs with a desire to remain as sustainable as possible, giving you what you need in terms of computing power and storage requirements without increasing your company's carbon footprint needlessly.  As noted, Element Critical data centers can also support highly customized cooling solutions that may not be possible in other data centers.  For example, our Houston data center houses a supercomputer immersed in a non-conductive mineral bath, and in Virginia, customers cool high-density racks with on-cabinet liquid cooling solutions.
Element Critical welcomes customers to visit our colocation centers and see how business is conducted. Transparency is crucial to ensure you get the best service, maximum security, and the best data center solutions for your business.
Schedule a tour of one of our facilities to learn more about reducing your carbon footprint while ensuring the data center infrastructure you require.