Three Ways Top Tech Trends Are Driving Data Center Technology
Increased adoption of AI and machine learning, the need for environmental sustainability, and increased data processing at the edge are driving innovation in data center technology. Some of these technologies have been evolving over the last few years, but their adoption will enter the mainstream in 2022. In this blog post, we will look at three trends that are driving the adoption of new data center technologies, specifically in power and cooling, monitoring, and networking.
1. AI Will Lead to Greater Adoption of Liquid Cooling
Companies of all sizes are adopting AI and/or advanced analytics. According to the Harvard Business Review (HBR), AI adoption skyrocketed in 2020 and 2021. HBR cites a PwC survey that found 86% of participating companies say that AI would be a "mainstream technology" for them by the end of 2021. Advances in GPU technology and high-performance computing, in general, have largely made this possible. More compute power enables companies to develop technologies that use deep neural networks, such as self-driving cars, voice assistants, and predictive analytics for manufacturing plants, oil and gas operations, and supply chain management. For many years, there was a lot of marketing hype around high-density power and cooling, but the time for this to become the norm has arrived.
According to NVIDIA, the greatest GPU system benefits are seen when companies start with compute-dense servers designed to house multiple GPUs before scaling to multiple servers. These high-density servers are the ideal data center building blocks for multi-server deep learning training workloads. This means data center managers and colocation providers must be able to accommodate high-density racks with the appropriate power and cooling technologies. This begins with designing data halls for hot and cold aisle containment. Containment alone allows companies to have servers with moderately high densities (around 20 kW per rack).  In addition to this, companies should consider adding cooling technologies at the rack level, including rear water door heat exchangers, (over 40 kw per rack), cold plates (indirect cooling), and liquid immersion cooling (direct cooling). Immersion cooling allows for the highest level of density at 100+ kW per rack.
2. Corporate Sustainability Goals Are Changing Data Center Design and Management
Because corporate success in 2022 and beyond depends on practicing sustainability and environmentally responsible IT, data centers will have to adopt technologies that contribute to these sustainability goals. Colocation providers and data center managers can enable sustainability on multiple fronts, including adopting the previously mentioned cooling technologies. When it comes to data centers and sustainability, people often think about power first. While using renewable energy sources is an important part of running a sustainable data center, so is maximizing energy use, capturing and reusing the heat that IT equipment produces, and minimizing water consumption in cooling processes. When it comes to cooling servers and individual components, liquid cooling is much more efficient than air cooling. However, when it comes to cooling the facility itself, air cooling is more efficient. 
At one point, water-based evaporative chillers were more efficient for data center cooling, but today, new closed-loop air cooling systems are much more efficient and save water. Many data centers are increasingly replacing wasteful, traditional water evaporation cooling systems with innovative closed-loop systems. These systems utilize recycled water and reduce water loss through evaporation. For example, in our new Houston One data center, we can use a closed-loop air cooling system that significantly limits water loss through evaporation and requires less than five homes worth of water on an annual basis.
In addition to changing the design of cooling systems, data center managers will need to adopt data center infrastructure management (DCIM) software that helps them track efficiency in a transparent way. The adoption of DCIM software has been rather slow over the years, with many data center managers continuing to use spreadsheets to track performance. With modern DCIM tools and sensor technology, data center managers can easily and transparently monitor power usage and distribution, monitor cooling equipment, temperature, humidity levels, and network performance in real-time, and gain a deeper understanding of their power usage effectiveness (PUE).  Increased regulation and corporate sustainability targets will require detailed and accurate energy consumption analysis. DCIM visualization tools can provide the verification that will be needed to demonstrate compliance with regulations and show progress toward sustainability goals. They also make it easier to run data centers as efficiently as possible. Using the wealth of data collected by DCIM tools, it becomes possible to track, document, and reach energy-saving goals. 
While data center infrastructure managers and colocation providers can use DCIM to monitor facility infrastructure, IT managers can also benefit from the use of DCIM software to monitor their rack temperatures and identify underutilized servers, further improving a company's IT efficiency and sustainability.
3. Edge Computing Is Driving New Networking and Cybersecurity Strategies
A rapidly growing Internet of Things (IoT) has led to the need to store and process data closer to the devices and sensors collecting and receiving data – at the edge of the network. A growing remote workforce will only increase the need for edge computing. As companies expand the edge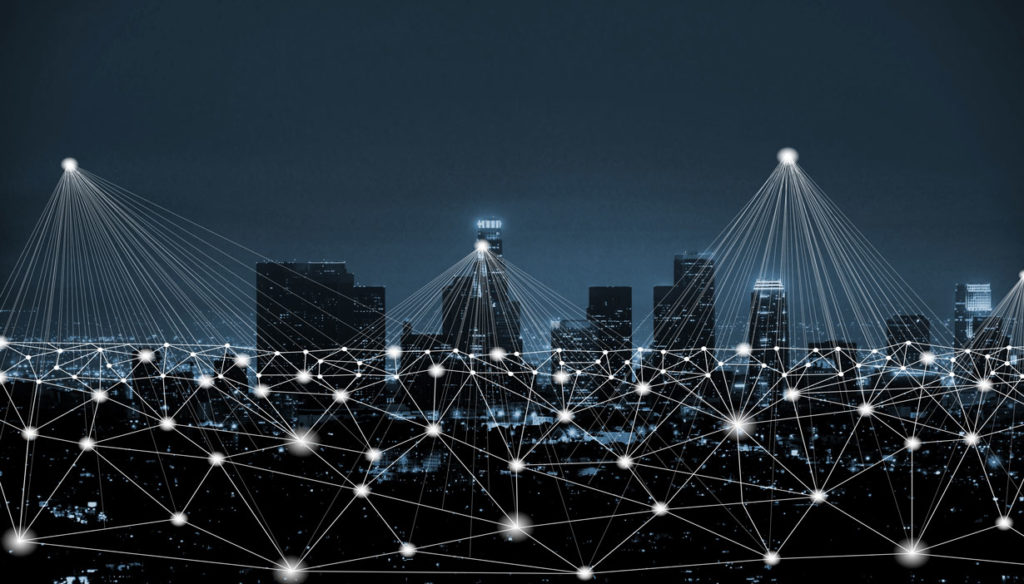 of their networks, their cybersecurity strategies will need to evolve to protect a growing number of endpoints. One emerging strategy to protect edge networks is what Gartner is referring to as a "cybersecurity mesh." A cybersecurity mesh consists of a flexible, composable architecture that integrates widely distributed and disparate security services.
Unlike a traditional IT security strategy, a cybersecurity mesh is not a single perimeter around all nodes of an IT network, rather it consists of smaller, micro security zones across a software-defined wide area network (SD-WAN) that can be managed from a central point. IoT devices, remote workers, and cloud-based applications are all outside of an organization's traditional security perimeter. As edge computing becomes the norm, a cybersecurity mesh will become the most practical approach to ensure secure use of cloud applications and access to distributed data from uncontrolled devices.
One emerging approach to implementing a cybersecurity mesh strategy is SASE (Secure Access Service Edge) architecture. SASE involves a suite of technologies, from SD-WAN to secure web gateways, zero-trust network access, firewalls as a service (FWaaS), VPNs, and microsegmentation. At a high level, this architecture uses virtualization technology to create varying security zones based on a users' roles and access permissions. What a user can access or not will be predetermined by granular policies based on user roles rather than prompting a user to log in for access.
Successful implementation of a cybersecurity mesh will not only depend on data center network technology, but the management of a combination of service providers to protect a company's entire virtual ecosystem. Gartner predicts that by 2024, cybersecurity meshes could "reduce the financial impact of individual security incidents by an average of 90%."
 Data Center Technology for 2022 and Beyond
Element Critical manages data centers across the U.S. that provide customers with the capacity to build high-density deployments backed by fully redundant power, network, and cooling resources. We run our data centers with military precision, ensuring we are continuously maximizing efficiency and working toward sustainability goals. In Texas, our data center customers will soon be able to purchase 100% renewable energy to power their IT infrastructure.
Learn more about our data centers.