How Your Data Center Partner Connects You with Advanced Services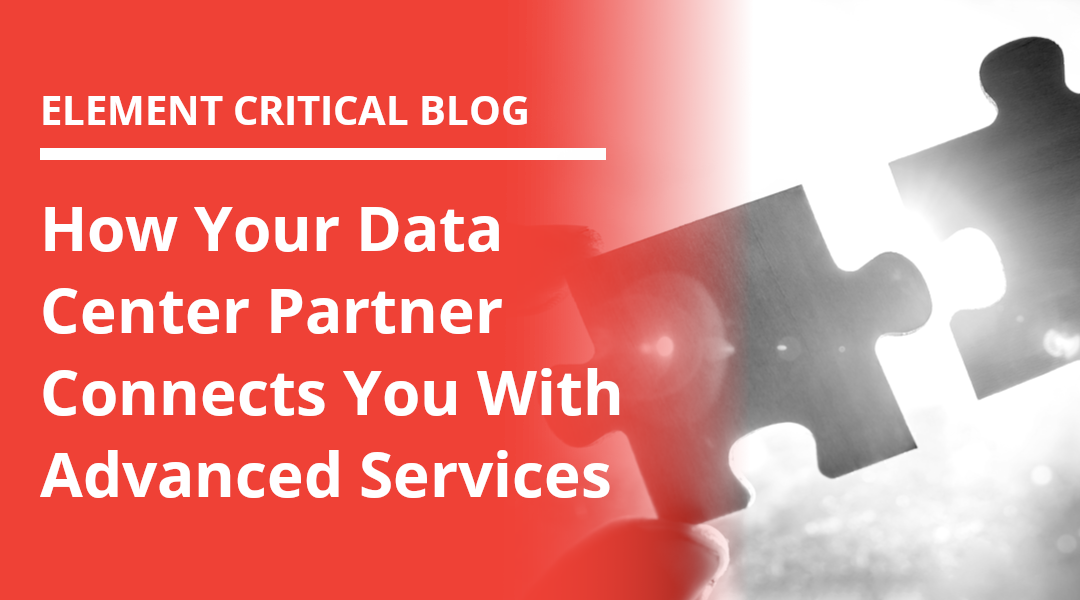 Let's start here… the cloud can be a powerful tool to leverage in your business. In fact, working with cloud providers is a great way to deliver some of the most advanced services out there. For example, cognitive systems. According to IDC, cognitive systems can greatly step up the frequency, flexibility, and immediacy of data analysis across a range of industries, circumstances, and applications. IDC estimates that the amount of the global datasphere subject to data analysis will grow by a factor of 50 to 5.2ZB in 2025; the amount of analyzed data that is "touched" by cognitive systems will grow by a factor of 100 to 1.4ZB in 2025!
Sure, some data center partners will provide their own cognitive solutions. However, the real power is with the cloud. But, to get there, you need to leverage good data center partners that offer that level of connectivity. With that in mind, it's important to note just how far hybrid cloud solutions and data center connectivity has come. Gartner predicts that by 2020, 90 percent of organizations will adopt hybrid infrastructure management capabilities. "As the demand for agility and flexibility grows, organizations will shift toward more industrialized, less-tailored options," said DD Mishra, research director at Gartner. "Organizations that adopt hybrid infrastructure will optimize costs and increase efficiency. However, it increases the complexity of selecting the right toolset to deliver end-to-end services in a multi-sourced environment."
From there, IDC recently pointed out that services supporting public and hybrid cloud environments are hot market items. Spending on managed and professional services around cloud adoption are, collectively, the second largest opportunity in the whole cloud market, accounting for 31% of all cloud-related spending in 2016 and 2021.
Here's a big pivot point… it's not just about connecting into the cloud. Many customers are also looking for way to connect between data centers as well to leverage various types of services and support end-users.
To that extent, how do you leverage all of these advanced connections and services? What should you look for when working with a data center partner knowing that cloud is in your future? First, let's define enterprise cloud connectivity:
An enterprise cloud connection. Enterprise cloud connections enable the interoperability of on-premise resources with public cloud environments. This can be a branch office, a colocation, or even a major data center which is aiming to connect into a public cloud ecosystem. The goal is to create optimal business agility where a business can scale to the demands of the market. Enterprise cloud connections use a variety of secure (and fast) connection protocols to allow organizations to integrate with network, storage, compute, and even user environments. The biggest difference has been the ease of creating these connections and how they can help transform a business. In the past, these connections were made manually and required a lot of administration. Today, major providers are offering easier ways to integrate with their cloud resources. With that in mind – let's look at two examples of enterprise cloud connectivity in the public cloud ecosystem.
Now, let's look at some of those easy ways to connect.
Think of this as intra-data center enterprise connectivity. Generally, A cross-connect is any connection between facilities provided as separate units by the datacenter. For example, a cross connects can be a physical cable that allows you to easily make direct connections between two different termination locations within data center facilities. In these cases, look for partners that offer a customer-friendly approach to cross-connects with industry-leading SLAs and dedicated pathway options for customers with connectivity-intensive requirements.
Let's say you need a special connection between data centers that are accessing key resources. A MetroConnect is a highly reliable network connection between data centers, connecting you to the resources you need within the same metro space. A good MetroConnect provider will give you dedicated access to service providers and enterprise clients in data centers within the same markets at a variety of connection speeds.
Public cloud providers will give you access to various types of connectivity options. For example, AWS Direct Connect lets you establish a dedicated network connection between your network and one of the AWS Direct Connect locations. Using industry standard 802.1q VLANs, this dedicated connection can be partitioned into multiple virtual interfaces. Much like AWS, Azure ExpressRoute lets you create private connections between Azure datacenters and infrastructure on your premises or in a colocation environment. As Microsoft points out, ExpressRoute connections don't go over the public Internet. The connection architecture allows for more reliability, faster speeds, lower latencies, and higher security than typical Internet connections. In some cases, using ExpressRoute connections to transfer data between on-premises systems and Azure can yield significant cost benefits.
So – what does this mean for you? Work with a data center partner that can support every large cloud provider. That means AWS, Azure, and Google. You'll want to work with a service which will accommodate all your hybrid cloud connectivity needs.
Finally, maybe you just need access to the WAN or good Internet connectivity. In today's 'slow is the new down' world you absolutely need to focus on IP bandwidth and latency requirements. Consider this – Research from TABB Group estimates that if a broker's electronic trading platform is 5 milliseconds behind the competition, it could lose at least 1% of its flow; that's $4 million in revenues per millisecond. Up to 10 milliseconds of latency could result in a 10% drop in revenues. If a broker is 100 milliseconds slower than the fastest broker, it may as well shut down its FIX engine and become a floor broker. In this case, latency is literally worth $4 million per millisecond.
Now, it might not be that dire for you. However, it's still important to work with a data center partner that has services designed to provide access to the Internet quickly, securely and with the least amount of latency and packet loss.
Each of these methods are a great way to extend your data center services and leverage some really advanced technologies. Public cloud providers know that you've made big investments into your on-premise data center ecosystem. They also know that you're probably not going to rip everything out and move into an entirely public cloud environment. This is why leveraging enterprise connectivity methods is a great way to seamlessly expand your own capabilities. That said, it's important to work with partners that give you options and allow you to stay agile and connected. The last thing you'd want to do is make your environment more complex. Remember, you're not just expanding your data center, you're also enabling new business services. Going full-cloud doesn't always make sense. But, an enterprise-ready connection can help you stay on-premise while leveraging new and advanced cloud solutions.