Element Critical Successfully Completes SOC 1 and SOC 2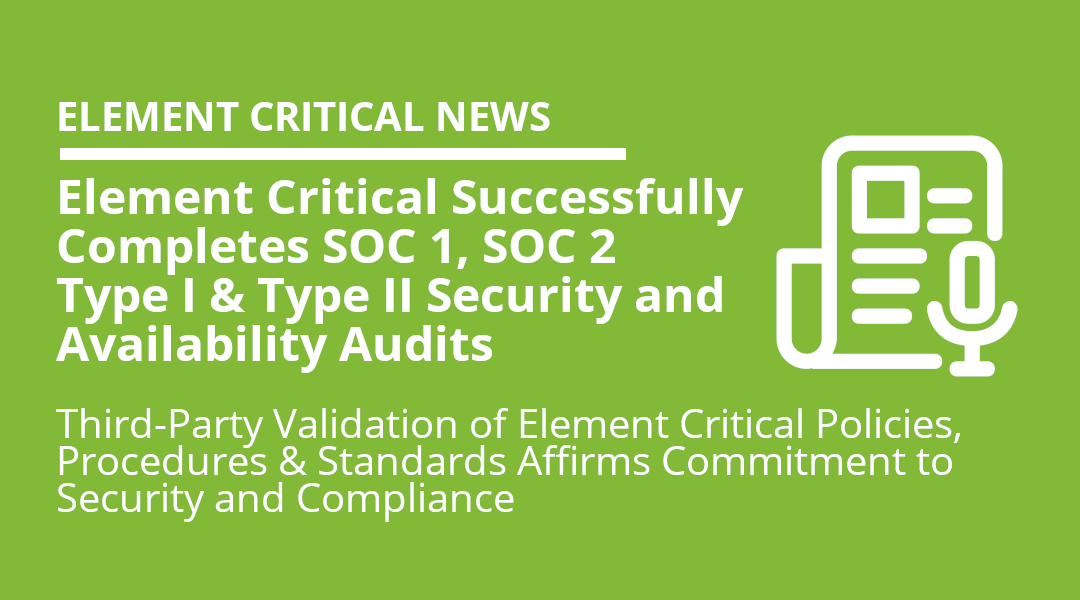 Element Critical Successfully Completes SOC 1, SOC 2
Type I & Type II Security and Availability Audits
Third-Party Validation of Element Critical Policies, Procedures & Standards
Affirms Commitment to Security and Compliance
SUNNYVALE, CA. — (September 4, 2018) – Element Critical, a leading provider of data center and IT infrastructure services driven by customer-centric solutions engineering expertise, today announced the firm has successfully completed its annual Service Organization Control (SOC) audits for all Element Critical data centers throughout the United States.
Element Critical 2018 SOC 1 Type I & Type II and SOC 2 Type I & Type II audits were performed by A-LIGN ASSURANCE, a licensed certified public accounting firm registered with the Public Company Accounting Oversight Board (PCAOB) as Price and Associates CPAs, LLC.
The American Institute of Certified Public Accountants ("AICPA") created the Service Organization Control framework. Two new SOC reports for Element Critical are now available:
SOC 1 (Type 1 and Type 2) for service organizations that impact or may impact their clients' financial reporting.
SOC 2 (Type 1 and Type 2) to evaluate an organization's information systems that are relevant to security, availability, processing integrity, confidentiality or privacy.
Together, these two SOC reports represent AICPA standards for reporting on controls over security and availability at service organizations in the United States.
Because SOC 1 and SOC 2 independently verify the validity and functionality of Element Critical control activities and processes, Element Critical customers can be assured that the highest level of internal controls and security are established and maintained. This ensures that Element Critical data centers in Sunnyvale, CA and Tysons, VA were audited to certify adequate controls and safeguards are in place, and adds a further assessment layer by requiring an organization's management to attest in writing to the fair presentation and design of controls.
"We are pleased to be one of a handful of IT outsourcing providers to achieve the far more stringent reporting requirements of SOC 1 and SOC 2 which sends an important message to customers seeking enterprise-grade data center and colocation solutions," said Jason Green, Chief Technology Officer, Element Critical. "By achieving Type I & Type II certifications on both reports, we meet and exceed compliancy requirements with meaningful audit standards that further position Element Critical as a leading provider of data center services."
With high-density, Tier III data centers in Northern California and Northern Virginia, Element Critical offers an array of tailored IT data center and colocation services nationally — including gateways into Asia Pacific and Europe — and providing unmatched scalability, security and multi-site redundancy to enterprise businesses.
About Element Critical
Element Critical owns and operates data centers in Silicon Valley and Northern Virginia. Our Tier III, turnkey and rapidly deployable data center solutions are carrier-neutral, network-rich, concurrently maintainable and available in a variety of space, power, and cooling deployment configurations. Element Critical cares as much about the people we serve as the servers we house. We offer a data center experience that brings solutions engineering and customer service out of the shadows and into the spotlight. For more information, visit www.elementcritical.com or [email protected].
CONTACT INFORMATION
MEDIA INQUIRIES:
Carter Cromley
(703) 861-7245
[email protected]