Element Critical Announces Partnership with Salute Mission Critical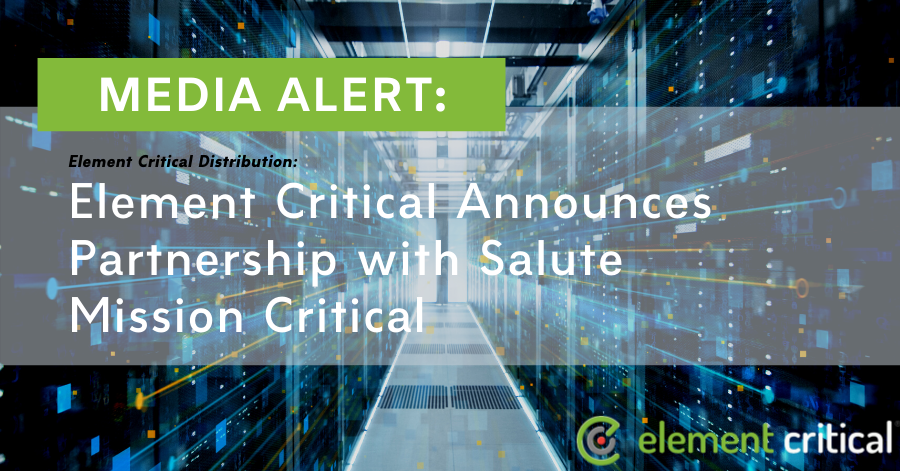 Agreement Delivers Office Space and Network Operations Center Strategically Located in Chicago Suburbs
SAN FRANCISCO– February 19, 2020 – Element Critical, a leading provider of IT infrastructure with premier data centers in Silicon Valley, Chicago, and Northern Virginia, today announced a partnership with Salute Mission Critical, a hands-on technical services organization that provides data center life cycle services allowing military veterans to transition into working in the data center industry. The partnership provides Salute Mission Critical with the opportunity to grow its geographic footprint in Chicago with a bundled solution of office space and data center capabilities known as the Salute Mission Critical Global Command Center.
CEO of Salute Mission Critical, Jason Okroy, shares: "We've been searching for the right location in the Chicago area for some time. With the recent renovation of Element Critical's CH1 facility, we can leverage their Class A conference rooms while conveniently accommodating staff and network equipment under the same roof. Working with Element Critical gives us confidence in our operations. We appreciate the focused attention to our needs."
"We are delighted to augment the offerings of Salute Mission Critical as they work to support U.S. Veterans as they transition from military service to the private sector," offers Wayne Dietrich, CRO of Element Critical. Going further, Dietrich adds, "We are eager and honored to be part of this important project. Supporting hybrid infrastructure with flexible and affordable solutions is our sweet spot."
###
About Element Critical
Element Critical is a leading provider of tailored data center and IT infrastructure services backed by solutions engineering expertise. With data centers in Silicon Valley, Chicago, and Northern Virginia, Element Critical's Tier III hybrid IT-ready facilities are carrier-neutral, network-rich, concurrently maintainable and available in a variety of deployment sizes and densities. Element Critical cares as much about the people we serve as the servers we house. We offer a data center experience that brings solutions engineering and customer service out of the shadows and into the spotlight.
For more information, visit www.elementcritical.com  or contact [email protected]
About Salute Mission Critical
Salute Mission Critical is a global Data Center services company that delivers a new operating model that is agile, resilient and scalable. From web-scale to edge clients and their tenants the Salute operating model is more cost-effective, more resilient and strategically advantageous. Salute delivers world-class services to the fastest growing data center companies in the industry. The Salute operating model is built on a rich history that skillfully integrated best practices from the military and the industry. Salute deploys, manages, and decommissions data center sites with consistent, high-quality results with military precision.
Our ability to recruit, train, deploy and support our teams is unique and proves the value of military training, practices, and veterans as the forgotten talent pool of disciplined, adaptable and trainable personnel. The meteoric growth of Salute has had the dual benefit of helping data center clients rapidly grow and change without risk and helped thousands of veterans start careers in the data center industry; dramatically changing the lives of veterans and their families. Salute has been recognized by the industry as the best example of a business with a social conscience.
To learn more about Salute Mission Critical, visit: www.saluteinc.comhttp://salutemissioncritical.com/