Private Suites: Reduce Your Office Footprint With A Secure Data Center Suite
Some of the country's leading companies are transitioning their business models, post-pandemic, to a flexible hybrid work model.  Let's look at a few high-level examples:
Ford Motor Company plans to let employees remain at home as part of their new protocol in July, joining the office when activities require teamwork.
IBM employs 346k people, and they admit that 80% of their employees will work with a combination of remote and office schedules.
JP Morgan Chase says the 5-day office workweek is a relic and will be switching between employees working remotely and in the office as a blended environment.
Change is in the air and the landscape of the business office may never be the same.  This means that the in-house data center model for many businesses is also changing.
Data Centers Are The Foundational Hub Driving Digital Business
Data centers are key drivers for enabling digital business; they provide a stable, connected framework in which to support IT equipment and its ever-increasing flow of data.  With businesses hastening digital initiatives, they must maintain scalable IT environments that connect data workloads between cloud computing, distributed data centers, latency-sensitive resources, and legacy workloads.
All this connection and interconnection requires robust networks, partners, and solutions to enable pathways for businesses to grow.
Regardless of whether businesses host their IT environment in the cloud, an owned data center or colocation facility, or at their corporate office, the data centers main role is to house all the IT equipment.  Even more important benefits include connections to a robust network, powering equipment with reliability and redundancy, and properly cooling for optimal function.  Data centers are the digital infrastructure backbone that is key to an enterprise business's success.
Data Demands Are Increasing Pressure On In-House Data Storage Solutions
As data demands increase exponentially, it becomes inefficient for companies to scale an on-site data center solution within their corporate facility.  In addition to reducing office footprints, businesses have been taking giant strides through the last few years diversifying their IT stack to optimize according to different workflows.  This means businesses are leveraging multiple environments and platforms, some of which are hosted in the cloud.  Other environments necessitate partnering with a data center provider to host equipment that requires strict control and compliance measures.
IT teams are tasked with an ever-increasing pace of technological advancements that require their attention over the management of the data center environment.  The amount of expertise, human capital, money, and time required to maintain, scale, and operate a data center is also growing more complex and time-consuming.   Despite these challenges, companies hang on to their on-site server rooms because they enjoy the peace of mind that maintaining in-house control affords.  They want proximity over the hardware that supports their business.
Let's explore how hybrid colocation solutions can provide solutions without compromising control and proximity.
Local Colocation Data Centers Offer Critical Benefits For Modern Business
Colocation data centers are third-party data storage and connectivity partners, hosting corporate hardware and IT equipment that is owned by the company.  Servers are hosted inside a facility that is designed solely for this type of equipment.  While this does add some distance between the IT assets and the corporate team, data centers that are locally located can minimize the distance.
Colocation is also beneficial in an era where the office environment is becoming more disparate, fluctuating to support a remote workforce and the hybrid models to follow.  Businesses are distributing IT assets to better support their customers in edge locations.  And the seamless connections necessary to coalesce a growing list of business platforms make the robust connectivity environment offered in a colocation data center even more critical to modern businesses.
Element Critical Private Suites Turns The Business Data Center Into An Operational Headquarters
For businesses looking to migrate an on-premise data center from their corporate office, Colocation in the form of private suites can bridge the gap.  Businesses can leverage the benefits of shared tenancy and cost efficiency while retaining the autonomy and control of their environment – the best of both worlds solutions.  Element Critical offers private suite space where customers can scale and flex their IT footprint within their own secure data hall.  No other customers have access to their private suite and advanced security features deliver peace of mind knowing access is fully restricted.  Let's look at even more benefits of a colocation private suite:
Compliance
Element Critical provides private suite space in the Chicago market because we understand how important it is for Chicago businesses to retain all the autonomy, security, and control of their vital equipment.  Our private suites are designed to strengthen your business's regulatory process with extensive auditing.
Uptime Reliability
Our high-performance data center suites are built with dedicated and redundant infrastructure to deliver guaranteed uptime, backed by our service level agreement.
Cost Savings
Converting IT costs into an operational expense drives flexibility and scalability into the business model. Finding the best of both worlds – customers can control the entire suite room, including adding customizable security systems, and they can do so at a fraction of the cost it would take to build their own data center.
Connectivity
Plus, don't forget the myriad connectivity solutions that our colocation data center offers in comparison with an on-site data center solution.  Element Critical will expand your network connectivity, from dedicated IP bandwidth, on-ramps to cloud providers, fiber connectivity for reduced latency, and redundant network solutions with your choice of providers in our carrier-neutral meet-me-rooms. Businesses can maintain full control over their mission-critical data in an ideal environment while building their network requirements upon the colocation data center backbone.
Expert Support
Colocation outsources IT equipment housing and management to experts, meaning that the enterprise is getting the best of facility maintenance, monitoring, uptime, and protection against power failures and beyond.  With Element Critical you extend your team of experts with access to Element Critical highly knowledgeable on-site personnel and facility engineers – available to help you manage your data center with remote provisioning.  Your business can manage your private suite assets with complete autonomy or you reallocate resources onto the core business initiatives while our capable teams handle your IT with remote hands services.
Business Services Amenities
Convenience and added benefits sweeten the partnership.  Each of our data centers includes ample parking, even in the busiest of business districts.  Our conference rooms, kitchen, rec room, and considerable office space can add to the ease of using a data center and amplify resources for businesses that are reducing their own office footprint.
High Touch Customer Service
At Element Critical, we understand that people buy from people.  Local colocation means access to real people, delivering hands-on technical support, no matter the size of your project.  From our executive team to our on-site engineers, our customers always have access to the exact person they need.
---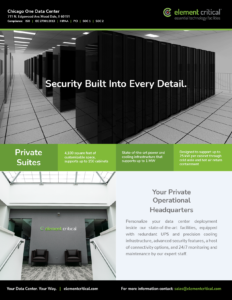 Download our brochure on Private Suites available in the Chicago market to learn more.
Schedule a tour of our Chicago One facility here.