A.I. Driving GPU-Powered Data Centers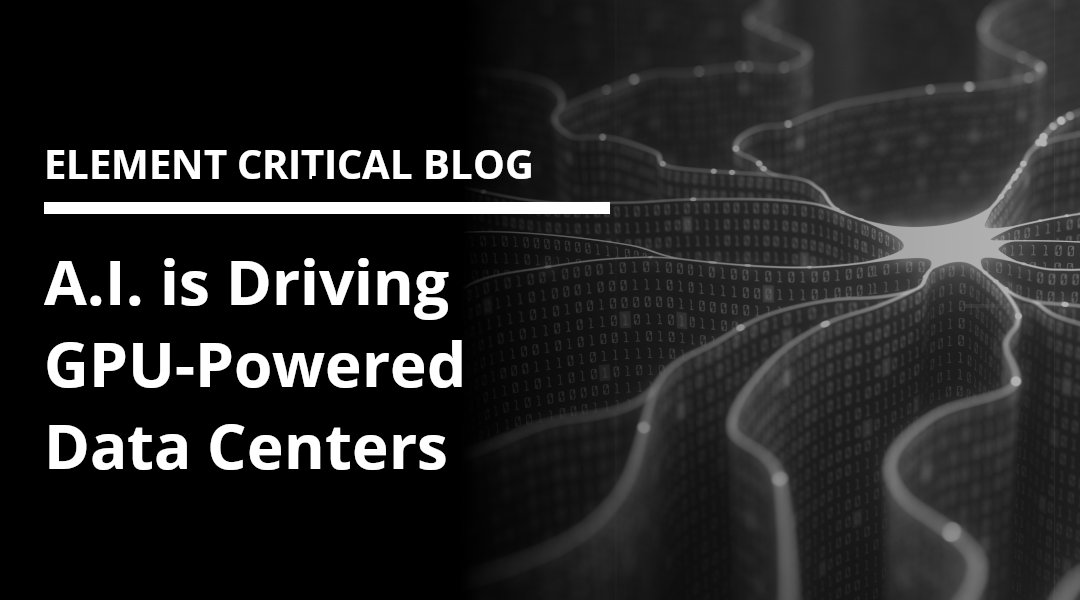 A.I. is no longer a distant dream. It's already changing many aspects of our lives including how we do business, raising customer expectations to unprecedented levels.
Not long ago you were asked to deliver a "responsive" online customer experience that could meet buyer needs instantly. That was challenging enough. And now that you've almost mastered this challenge, the stakes have been raised even higher.
Today, because of how A.I. is altering the buyer's journey, as a company you will now be asked to deliver a "predictive" experience—to use data and analytics in a much smarter and faster way to predict what your customers want even before they ask for it, or know they want it.
The bottom line is, A.I can give you the mega-brain-power to offer your customers what they want, at the right time, and at a price that beats competitors. It's already disrupting corporate economic models, strategy, culture, and even how businesses are structured and run.
The good news: There are tremendous opportunities for companies that can rise to the challenge, because A.I. has the potential to almost double the value of the global digital economy to $23 trillion by 2025 from $12.9 trillion in 2017, according to a study by Huawei.
The need to transform your business to keep up with the changing digital economy may sound like a tall order. And it is.
So where do you start?
Time to Transform Your IT Infrastructure
You've likely heard the buzz on digital transformation this year and there's a good reason for that. It's now a requirement to take on the continuously evolving digital economy. Though, digital transformation is much more than just updating your IT strategy.
It means you'll have to become a data-driven and insights-driven organization that can stay ahead of customer demands. It requires you to update your business model, sales approach, the way you plan for and consume IT services, and how you set up your IT infrastructure.
According to Forrester's Predictions 2018: The Honeymoon For AI Is Over, 70% of enterprises plan to implement A.I. this year, with 20% planning to use it to make decisions. In the Worldwide Semiannual Cognitive Artificial Intelligence Systems Spending Guide by IDC, they predict that global spending on cognitive and AI systems will grow nearly 55% this year to $19.1 billion, with 75% of enterprise applications using A.I. by 2021.
To support the potential A.I. can deliver to your business, it's vital your company have the supporting infrastructure to develop and utilize A.I. applications, as well as deliver the speed and performance needed.
To focus on innovation rather than planning for and managing the IT requirements for AI in the data center, you will increasingly need to rely on automation to keep pace with growing compute needs and managing the distributed nature of compute resources. Which means that A.I. data storage, processing power and bandwidth should be top priorities in your strategy.
As the need for availability, reliability, security, scalability, and connectivity increases, more companies are looking to the cloud and colocation as options for creating their network infrastructures quickly and securely, without incurring major capital expenses.
How A.I. is Changing Data Centers
A.I. has caused the demand for GPUS, microprocessors, and servers to skyrocket, and in turn, the data center market to grow. It has also challenged enterprises to update their networks or work with data center providers who can give them the ability to do so quickly. In fact, the global data center colocation market is expected to see investment of around $31 billion by 2023, growing at an impressive CAGR of approximately 8% during 2017-2023.
Applications such as voice search and image recognition require data centers with high-end graphics processing units (GPUs) that can support enormous volumes of data. And because A.I. applications make better decisions with exposure and access to more and more data, the amount of data you have the ability to store and process should ideally be unlimited.
Originally developed to satisfy the high demands of gamers, GPUs have found a new niche in data centers and are now supporting enterprise initiatives around machine learning, A.I. and more. Their parallel architecture makes them well-suited for some traditional workloads that can benefit from GPU-accelerated computing, according to Jason Stamper, an analyst at 451 Research.
How We Support Mission-Critical Deployment Needs
Meeting customer needs and expectations are key to our mutual success.
We strive to get a deep understanding of our clients' computing requirements, as well as the intended (and unintended) behaviors of infrastructure within our data centers. We don't simply allow a client to install anywhere in our facility based upon a projection of power and cooling.
We learned very quickly, much like in every other IT deployment, GPU-based clients all operate differently, and therefore need different considerations for how our facilities need to support power and cooling.
Based on our approach to continuous learning and innovation, we architect colocation solutions for each client to optimize performance, even within the realm of a changing behavior profile.
According to industry expert Bill Kleyman, "Deploying and implementing intelligent systems that learn, adapt and potentially act autonomously will become the primary battleground for technology vendors and services partners through 2020 and beyond." At Element Critical, we support numerous GPU deployments across multiple client use cases and vertical markets, from AI to blockchain, and in form factors from 1-2U conventional devices to 6U+ custom multi-card installations.
We currently employ several solutions to identify, capture, and correlate data from our data centers.
In addition, we're already piloting multiple A.I. technologies to implement expanded data analysis that can optimize everything from performance to maintenance schedules in our facilities.
For data transmission supporting A.I. applications, fiber has become the de-facto choice due to its high speed and ultra-high-density capabilities, when compared to its copper counterpart. We combine fiber-rich, carrier-neutral data centers with industry-leading SLAs to deliver fast, secure and low-latency connectivity solutions.
We understand the need to future-proof your high-performance network deployments, so we offer a variety of connectivity options that support A.I. applications and other new technologies you may be considering to drive a consistent, quality experience for your customers.
Learn more about how our data centers can support your next mission-critical deployment.